The Durable Slate Company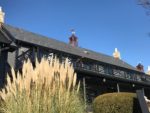 The Durable Slate Company exclusively works on historic roofing – slate, tile and sheet metal. We work on both new and restoration of these types of roofing materials. We also work on copper, steel and built-in gutters.
Our sister company, The Durable Restoration Company, restores old structures – historic masonry restoration, structural stabilization, plaster, wood work, etc.
Send Message to listing owner
The Durable Slate Company