Masonry Contractor Business Description:
Specializing in full renovations of Victorian, craftsman and federal styles of home. We are best at all kinds of roofing, siding, and mechanical (plumbing, electric, and HVAC and boilers) but are quite capable in all areas of home improvement. Since 2002.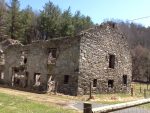 Business Description:
I enjoy historic restoration. 30 years masonry and 15 years restoration work on 6,000sqft, c. 1790 stone mansion.15 years at Ladew Topiary Gardens repairing and restoring fountains and hardscapes. I have been certified by Cathedral stone to use all their cleaning and masonry products. I have a website; lagrangehall.com
I have been a licensed General Contractor for 10 years.
I believe I am well suited to repair and maintain most issues with historic homes. Including slate roofing, copper work, woodwork replication, plaster, water infiltration problems etc. homes built before 1930 preferred. The older the better for me.
MHIC# 108157