 Business Description
Cultural Resources Consulting firm. Archaeological survey, evaluation, data recovery, cemetery delineation and removal, NEPA, Section 106, historic background research.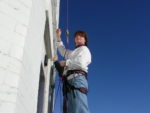 Business Description
Retrospect, LLC is a private research and consulting firm specializing in architectural documentation and historic preservation. Founded in 2006 by Sherri Marsh Johns, the firm successfully provides clients with a range of cultural resource management services. Staff credentials are especially strong in the areas of architectural and historical research; survey and documentation; and historic preservation law compliance.
Retrospect specializes in mid-Atlantic vernacular architecture, but has experience documenting a variety of property types throughout much of the continental United States and Caribbean. Professional projects include National Register and National Historic Landmark evaluations and nominations; thematic studies; NEPA/NHPA compliance; historic property survey and identification; and State Historic Preservation Office inventory documentation. Business Description
Trileaf Corporation is a full-service, multidisciplinary, nationwide consulting firm with expertise in environmental, cultural resources, architectural, and engineering consulting. Trileaf has 19 locations nationwide, facilitating quick, high-quality turnaround times for medium to large-volume projects that cover large geographies.
Trileaf employs a diverse team of the most highly qualified professionals in the fields of archaeology, ecology, geology, history, architecture, historic architecture, preservation planning, civil engineering, structural engineering, design, and drafting. With these professionals Trileaf provides services such as Phase I/II Environmental Site Assessments, Property Condition Assessments, FCC NEPA Screenings, Migratory Bird Evaluations, archaeological investigations, As-Built Architectural Site Surveys, structural analyses, and Construction Drawings. Trileaf has expertise in cultural resources management, archaeological and historic resources surveys, site testing, viewshed analyses, and data recovery; National Historic Preservation Act (NHPA), Section 106 compliance; historic preservation planning; and State Historic Preservation Office (SHPO) and Tribal Historic Preservation Office (THPO) consultation.
Trileaf's expertise in the above are focused on the construction, wireless infrastructure, commercial real estate, and development industries. Trileaf is widely known for our quality, communication, and rapid turnaround for services, which meet or exceed industry, state, and federal standards.