Preservation Planner Business Description:
AKRF is an environmental, planning, and engineering firm with offices in Maryland, New York, New Jersey, Pennsylvania, and Ohio. Our Cultural Resources department includes experienced professionals from a wide range of disciplines including architecture, history, architectural history, archaeology, anthropology, and historic preservation. Whether researching a building or neighborhood, conducting a statewide inventory of historic bridges, collecting oral histories, or or performing archaeological surveys, AKRF's cultural resources team has the expertise to provide our clients with the deliverables needed to meet agency standards and requirements, often within expedited schedules.

Business Description:
Founded in 1988, Commonwealth Heritage Group, Inc. (Commonwealth), is a full-service heritage management and consulting firm serving clients for projects of all sizes. As an experienced industry leader, Commonwealth specializes in areas of archaeology, architectural history, historic preservation and preservation planning, historic landscape analysis, compliance and litigation support, terrestrial and marine remote sensing, geoarchaeology, geophysics and historical research.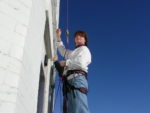 Business Description:
Retrospect, LLC is a private research and consulting firm specializing in architectural documentation and historic preservation. Founded in 2006 by Sherri Marsh Johns, the firm successfully provides clients with a range of cultural resource management services. Staff credentials are especially strong in the areas of architectural and historical research; survey and documentation; and historic preservation law compliance.
Retrospect specializes in mid-Atlantic vernacular architecture, but has experience documenting a variety of property types throughout much of the continental United States and Caribbean. Professional projects include National Register and National Historic Landmark evaluations and nominations; thematic studies; NEPA/NHPA compliance; historic property survey and identification; and State Historic Preservation Office inventory documentation.