Richard Grubb & Associates, Inc.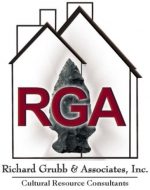 Business Name:
Richard Grubb & Associates, Inc.
Business Description:
Richard Grubb & Associates, Inc. (RGA) was established in 1988 as a full-service cultural resource management firm, and has since grown to become one of the largest, independent archaeological and historic preservation consulting companies in the Mid-Atlantic, Midwest, and Northeast regions. RGA's goal is to assist public and private clients through the process of complying with federal, state, county, and municipal cultural resource and historic preservation regulations. RGA has a multi-disciplinary staff of cultural resource professionals that meet or exceed the Secretary of Interior's Qualifications Standards (36CFR61) for archaeology, architectural history, and history. The Principal Investigators for archaeology have performed or supervised site assessments and screenings, Phase IA, Phase I and Phase II archaeological surveys and Phase III data recovery investigations of prehistoric and historic sites. The Principal Investigators for architectural history and history have performed or supervised reconnaissance and intensive-level architectural surveys and have successfully competed cultural resource mitigation, including Historic American Buildings Survey (HABS)/Historic American Engineering Record (HAER) documentation, interpretive displays, educational brochures, preservation plans, and bridge preservation covenants. All Principal Investigators routinely undertake assessments of National Register eligibility and effects, assess projects for adherence to the Secretary of the Interior's Standards for the Treatment of Historic Properties, and consult and coordinate with the various State Historic Preservation Offices for the preparation and completion of Memorandum of Agreement stipulations and other mitigation measures. RGA also has a full-scale archaeological laboratory and qualified staff to ensure compliance with 36CFR79, Curation of Federally-Owned and Administered Archaeological Collections.
Send Message to listing owner