Gant Brunnett Architects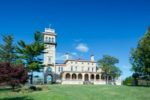 Business Name:
Gant Brunnett Architects
Business Description:
Historic restoration requires craftsman with special skills and experience.  Gant Brunnett Architects has the knowledge and expertise to assist your organization with all aspects of the project development including planning, condition surveys, historic tax credit applications, production of construction drawings and oversight of the restoration construction.   We are regularly engaged in preservation projects that require close coordination with local and State historic preservation officials, as well as public funding sources.  Our award winning portfolio includes numerous National Historic Trust listed properties, including Landmark designated buildings similar to the recently completed Clifton Mansion; the former home of Johns Hopkins.
Send Message to listing owner