EAC/Archaeology, Inc.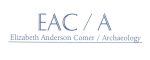 Business Name:
EAC/Archaeology, Inc.
Business Description:
EAC/Archaeology, Inc. is a small business certified as a MBE/WBE which performs historical research, architectural history, historical and prehistoric archaeological survey, testing and excavation projects. Elizabeth A. Comer serves as the Project Manager and Principal Investigator. Since founding the company in 1983, Ms. Comer has successfully completed more than 375 archaeology projects (more than 200 in Maryland) including historic, prehistoric, transportation, maritime, underwater, and industrial sites as well as archival and historic architectural studies.
Send Message to listing owner