Northeast Collaborative Architects, LLC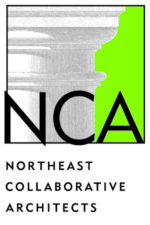 In over three decades of practice, Northeast Collaborative Architects has built a reputation for delivering quality, innovative, award-winning projects. Our basic services encompass architecture, interior design, master planning and sustainable design. Our work encompasses new construction, restorations and adaptive reuse with special interest in cultural, public sector, hospitality, educational, and residential projects.
NCA is a highly motivated team of architects who are excited and passionate to transform spaces thru design. The buildings, spaces and environments we help create not only solve our clients' need. They add value by using the least resources to solve those needs, enhance their end users' experience by designing to the human scale with respect for their historic contexts and environmental impact.
NCA has extensive history working with National Trust for Historic Preservation, Secretary of the Interior Standards for Historic Preservation and within historic districts.
We have successfully designed innovative solutions for over 150 historic properties that are listed on the National Register of Historic Places. Each project was completed in accordance with guidelines for rehabilitation set by the Secretary of the Interior. We take pride and pleasure working for our clients in restoring and renovating historic properties.
NCA was recently honored with a National Trust for Historic Preservation Award and Congress for New Urbanism Award for the Micro Lofts at the Arcade Providence. This project was also on the cover of the Federal Tax Incentives for Rehabilitating Historic Buildings Annual Report for Fiscal Year 2014: NPS Dept. of the Interior.
Send Message to listing owner
Northeast Collaborative Architects, LLC