Painter/Paint Restoration Contractor 21234
Building Contractor, Carpenter/Wood Conservator, Electrician, Interior Designer, Landscape Architect, Masonry Contractor, Materials Conservator, Painter/Paint Restoration Contractor, Photographer/Videographer, Plasterer, Roofer, Window Conservator
We are here for any and all of your home needs!
Kitchens & Bathrooms, Natural Stone & Laminate Countertops, Carpet, Hardwood & Linoleum, Attic & Basement Finishing, Window & Door Replacement, Custom Home Sound System & Theater, Custom Trim & Caulking, Historical Preservation & Woodwork, Drywall & Painting, Ceramic & Marble Tile, Framing, Fences & Decks, Gutters, Roofing & Siding, Custom Ironwork, Plumbing, Electrical & HVAC, Footers, Post & Beams, Masonry Patios, Foundations & Mudjacking, Landscapes, Hardscapes, & Maintanence, Everything Residential
OTHER RESIDENTIAL SERVICES
Home Inspections For Pre-Purchase
Project Management
Organization & Hauling
Home Staging & Design
Custom Home Theater & Sound
Financing
Realtor Services
We work with Homeowners, Investors, Real Estate Agents,
Architects, Engineers, and other Contractors. 21204
Thirty-plus years of historical restoration experience, principally on the Upper Eastern Shore of Maryland.  Based in Chestertown from 1977 – 2010, we have performed numerous restorations as a general contractor in Kent, Queen Annes, Talbot and Cecil Counties.  The projects have ranged from complete-gut restorations (Wide Hall – Chestertown), to structural underpinning, moving houses, reproduction millwork, epoxy column repairs (Kent County Courthouse) antique window restoration, and the coordination of modern mechanical systems into historical buildings. Too many projects to list here.  I have served as a general contractor, restoration consultant and carpenter on various smaller projects in the Baltimore area.  I offer complete restoration services, including construction management of large and small projects.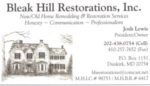 20736
Professional historic remodeling contractor specializing in window restoration, woodwork, epoxy repairs, and other aspects of historic restoration. A sampling of sites that I have worked on in the past are:
Historic Old Wallville Schoolhouse – Prince Frederick, MD
Historic St. Barnabas Church – Bowie, MD
Private historic residences in Scientists Cliffs – Port Republic, MD; Huntingtown, MD; Halethorpe, MD; City of Annapolis to name a few
I perform the majority of the historic restoration work myself and I also have access to highly qualified professionals for other areas of work as projects dictate. I trained with historic preservationist, John Leeke of Portland, Maine to learn window restoration techniques.
My family and I reside in Owings, MD in a circa 1842 Gothic Revival which we are restoring. I look forward to helping you preserve your historic home as well.